About
Zap's Digital Lighthouse is
a Blosxom weblog for our digital outpost on the Internet

For info
info@rax.org


Useful links:
Google
Cyberpresse
The Reg
Slashdot
FreeBSD
LinkedIn
Twitter
Boursorama
RAX
zap
Soekris
xkcd
AirFrance
Wiki soekris
Wikipedia
Wiktionary
ACME
blosxom

Categories:
/FreeBSD (24)
/admin (1)
/blosxom (6)
/games (3)
/hardware (17)
/inet (4)
/misc (37)
/notwork (2)
/software (11)
/tech (1)

Archives:
2019 (1)
| July (1)
2018 (6)
| December (1)
| November (3)
| January (2)
2017 (4)
| December (2)
| January (2)
2016 (3)
| November (1)
| October (1)
| January (1)
2015 (9)
| December (2)
| November (1)
| October (1)
| June (1)
| May (2)
| February (1)
| January (1)
2014 (9)
| December (1)
| October (1)
| September (1)
| August (3)
| May (2)
| April (1)
2013 (20)
| October (3)
| June (4)
| May (2)
| April (7)
| March (1)
| January (3)
2012 (60)
| December (4)
| October (1)
| July (5)
| June (7)
| May (1)
| April (6)
| March (3)
| February (14)
| January (19)
2011 (3)
| December (1)
| November (2)
2008 (1)
| October (1)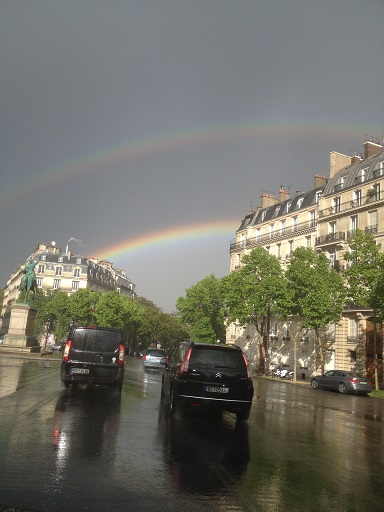 OK, so I will not do the whole Internet meme thing about "oh my god, double rainbow what does it all mean", but...
On our way to our friend Caroline's yesterday night, it rained pretty suddenly... and just as suddenly, wham, the sun came out. We looked around for a rainbow and then suddenly there was this neat double rainbow over Paris.
My wife didn't have time to take the picture with the double rainbow with the Eiffel tower, but she did get the great "double rainbow above the Place d'Iena" picture that you can see above.
Must have something to do with the fact that in couple of weeks, we're going back to Canada after 18 years in Europe :-D
/misc | Posted at 16:19 | permanent link