About
Zap's Digital Lighthouse is
a Blosxom weblog for our digital outpost on the Internet

For info
info@rax.org


Useful links:
Google
Cyberpresse
The Reg
Slashdot
FreeBSD
LinkedIn
Twitter
Boursorama
RAX
zap
Soekris
xkcd
AirFrance
Wiki soekris
Wikipedia
Wiktionary
ACME
blosxom

Categories:
/FreeBSD (24)
/admin (1)
/blosxom (6)
/games (3)
/hardware (17)
/inet (4)
/misc (37)
/notwork (2)
/software (11)
/tech (1)

Archives:
2019 (1)
| July (1)
2018 (6)
| December (1)
| November (3)
| January (2)
2017 (4)
| December (2)
| January (2)
2016 (3)
| November (1)
| October (1)
| January (1)
2015 (9)
| December (2)
| November (1)
| October (1)
| June (1)
| May (2)
| February (1)
| January (1)
2014 (9)
| December (1)
| October (1)
| September (1)
| August (3)
| May (2)
| April (1)
2013 (20)
| October (3)
| June (4)
| May (2)
| April (7)
| March (1)
| January (3)
2012 (60)
| December (4)
| October (1)
| July (5)
| June (7)
| May (1)
| April (6)
| March (3)
| February (14)
| January (19)
2011 (3)
| December (1)
| November (2)
2008 (1)
| October (1)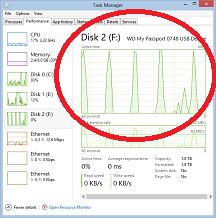 I have been using the Time Machine backup software under Mac OS X for a number of years now. It's quite good, and once saved me, as a disk in one of my iMacs crashed, and I was able to restore the machine to a full working state by just changing the hard disk in it, and using the Time Machine to restore it to its last known working state. I did not lose a thing!
Time Machine is also very nice to use: you just plug an external disk in one of the USB ports, and voila: a couple of simple manipulations and you're on your way.
So, given this experience, I decided to try the Windows backup software that came with Windows 7 Ultimate. It's not as nice, and now that it's also ridiculously slow...
I have a relatively fast Windows 8 64-bit desktop machine (3.4GHz, 8GB of memory, and 2 x 1TB of disk space)... well, i've been backing it up to an external USB3 2TB external drive for literally hours now, and it's still at 31% completion!
What's worse, it that it doesn't appear to be doing very intensive I/O to the USB3 disk, as can be seen in the above snapshot from the Windows 8 task manager...
Disks fail. Not all the time, but eventually they do. Being able to back up my PC to a local USB drive would seem like something that should come into the box with the O/S I purchase... heck, Unix has had tar and cpio for years.
Oh well.
Time to go to sleep now.
/software | Posted at 19:16 | permanent link