About
Zap's Digital Lighthouse is
a Blosxom weblog for our digital outpost on the Internet

For info
info@rax.org


Useful links:
Google
Cyberpresse
The Reg
Slashdot
FreeBSD
LinkedIn
Twitter
Boursorama
RAX
zap
Soekris
xkcd
AirFrance
Wiki soekris
Wikipedia
Wiktionary
ACME
blosxom

Categories:
/FreeBSD (24)
/admin (1)
/blosxom (6)
/games (3)
/hardware (17)
/inet (4)
/misc (37)
/notwork (2)
/software (11)
/tech (1)

Archives:
2019 (1)
| July (1)
2018 (6)
| December (1)
| November (3)
| January (2)
2017 (4)
| December (2)
| January (2)
2016 (3)
| November (1)
| October (1)
| January (1)
2015 (9)
| December (2)
| November (1)
| October (1)
| June (1)
| May (2)
| February (1)
| January (1)
2014 (9)
| December (1)
| October (1)
| September (1)
| August (3)
| May (2)
| April (1)
2013 (20)
| October (3)
| June (4)
| May (2)
| April (7)
| March (1)
| January (3)
2012 (60)
| December (4)
| October (1)
| July (5)
| June (7)
| May (1)
| April (6)
| March (3)
| February (14)
| January (19)
2011 (3)
| December (1)
| November (2)
2008 (1)
| October (1)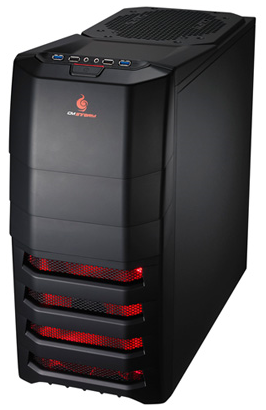 Some weeks ago, my desktop started freezing on a regular basis when playing heavy 3D graphics games. It wasn't that old, but apparently some part of the hardware was having some trouble with overheating.
I investigated for a few weeks, but could not find the culprit. So, I decided to buy a new PC. I bought a nice configuration at AAC Computers on Daumesnil in Paris' 12th arrondissement.
Here's what I now have:
Intel Core i7-4770K @ 3.5GHz (4 cores w/ HT)
16 GB RAM
Windows Pro 8.1 64-bit
NVIDIA GeForce GTX TITAN
Intel I217-V Gigabit Ethernet
CM Storm Quickfire keyboard
240 GB SanDisk SSD
3 TB Seagate HD
Hyundai HDIT27W HDMI screen
All of this in a CM Storm black enclosure -- this is quite nice.
The amount of computing power we now have at our fingertips is just amazing... the first computer I have ever used (a CDC Cyber 173 running under NOS/BE), a beast for its time, would pale compared to this PC (*).
(*) if I compute well, the Cyber 173 was a dual CPU machine, running probably at 25 MHz (not counting the 12 PP processors here) with probably 256K 60-bit words of memory (around 2 MB if I count right). So if my back-of-the-envelope calculations are correct, it's about 250 times faster with 8000 times more memory, and I won't even try to count how much more disk space.
/hardware | Posted at 23:20 | permanent link